I have just added this to the map of places to fly your drone at Drone Scene: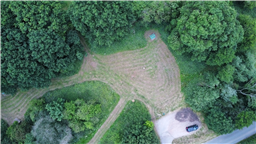 Land owner permission not required.
Belmont Common-
Good VLOS to the north with very little to interfere with flight.
A spot I use to practice low level manoeuvres when upper winds are too high as trees from 3 sides give good cover.
Footpaths through woods look good for FPV (if I were brave enough)
Very unlikely to bump into members of public
Warnings:
TNL FRZ 0.5 miles to the south
Close to road (quiet road)
Phone line nearby
Trees up to 50ft around 3 sides
The originator declared that this location was not inside a Flight Restriction Zone at the time of being flown on 28/06/2022. It remains the responsibility of any pilot to check for any changes before flying at the same location.