I have just added this to the map of places to fly your drone at Drone Scene: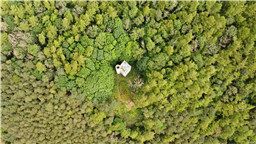 Land owner permission not required.
Marker dropped at small car park.
Built in 1813 by Lord Francis Grey so he could enjoy the stunning views over the Tay and Lomond Hills.
Perth Airport is close so be mindful of how and where you fly.
The originator declared that this location was not inside a Flight Restriction Zone at the time of being flown on 24/07/2022. It remains the responsibility of any pilot to check for any changes before flying at the same location.