I have just added this to the map of places to fly your drone at Drone Scene: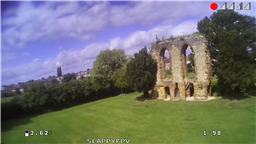 Land owner permission requirements unknown.
There are 2 benches to sit down and fly from. Watch out for the moat.
Try to go when the park ranger isn't there (opening and closing) to avoid questions.
It is a park with children
52.417943, -1.451602
///navy.chained.urban
The originator declared that this location was not inside a Flight Restriction Zone at the time of being flown on 15/08/2021. It remains the responsibility of any pilot to check for any changes before flying at the same location.