Been using this for about 5 months it works great on my air2 and 2s
I've mirrored that file for GADC Full Members as it'll no doubt get pulled or hit a quota limit.
Just going to drop the usual word of exercising extreme caution when installing unknown apps from unknown sources, where that source code is not publicly available.
You have no idea if this app is harvesting all the contacts in your phone and sending them to someone dubious (the best worst case scenario) or if it's pulling all your saved credit card data, Facebook and Whatsapp contacts and mining bitcoin in the background (probably the worst case scenario).
Please be careful

The safe flip side of Apple ownership

This looks the same as one listed here (or maybe on Mavic Pilots) a while ago.
I've been using it on my MA2 for a few months too & it works very well!
Sorry guys, asked a question re hack then watched the YT clip that provided the answer.
Does this change the RC firmware version or functionality other than putting it into FC mode? I've got RC firmware version 04.11.0032 which includes amending the joystick EXP values - would that still be the case after applying this hack?
Does this work on Mini 1? If not, there is another way, for free?

Has anyone tried this jack with a Mini 2 on firmware v01.05.0000 ?
Thank you for volunteering to test this hack on the mini 2 v01.05.0000
Let us know how you get on

Well, someone has to…
It worked! Noticeably better signal in a built up area.
Getting the app to recognise the controller seemed a bit hit and miss on my Pixel 6 Pro and tool about 10 attempts of unplugging and plugging back in. It seems like you need to tap "Patch" as soon as it's connected.
Here's what seemed to make it work. Some steps may not be needed
Turn on drone
Turn on controller
Open the app
Plug USB cable into phone and bottom of controller
When Android's popup about automatically opening the app pops up then very quickly tap the checkbox and OK
Unplug cable
Turn off controller
Force close app
Plug in cable
Turn on controller
As soon as the app opens then tap Patch
Unplug cable and plug in normally
Fly
On the Mavic forums, some people are saying that the hack is permanent. It seemed to reset when the drone was turned off for me.
Here's before and after, with the signal in CE and FCC mode: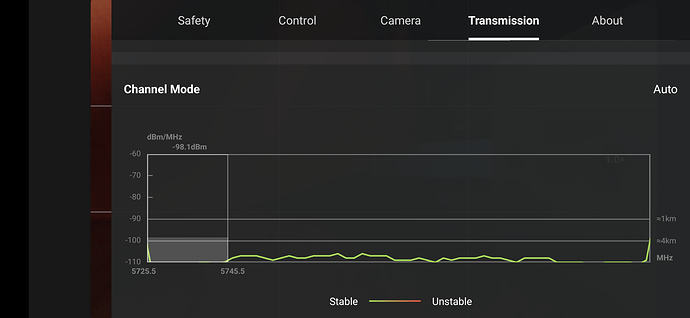 Top job @dave1010

And thanks for the detailed steps on how to do it

Well done Dave, and thanks for being a beta tester!