I have just added this to the map of places to fly your drone at Drone Scene: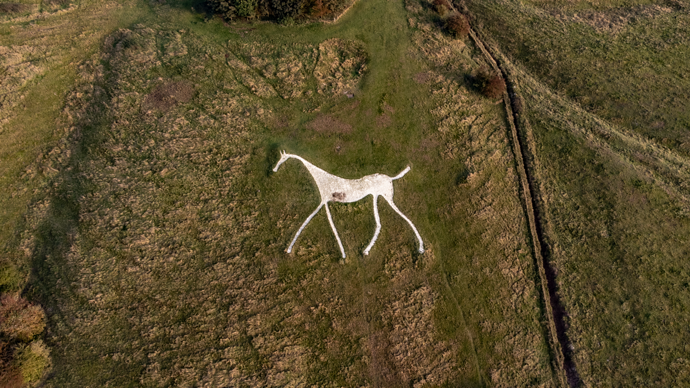 Land owner permission not required.
Parking is available at the brow of the hill, enough for about 15 cars. There is a track from the car park that runs across the Ridgeway. The White Horse is only about 100 yards from the car park.
Hackpen White Horse is a chalk hill figure of a white horse on Hackpen Hill, located below The Ridgeway on the edge of the Marlborough Downs, two miles south east of Broad Hinton, Wiltshire, England. It is one of nine white horse hill figures located in Wiltshire. It is also known as the Broad Hinton White Horse due to its near location to Broad Hinton. Supposedly cut by local parish clerk Henry Eatwell in 1838 to commemorate the coronation of Queen Victoria, the horse is 90 square feet (8.4 m2). The horse is regularly scoured and maintained.
The originator declared that this location was not inside a Flight Restriction Zone at the time of being flown on 09/10/2021. It remains the responsibility of any pilot to check for any changes before flying at the same location.