I have just added this to the map of places to fly your drone at Drone Scene - Location # 588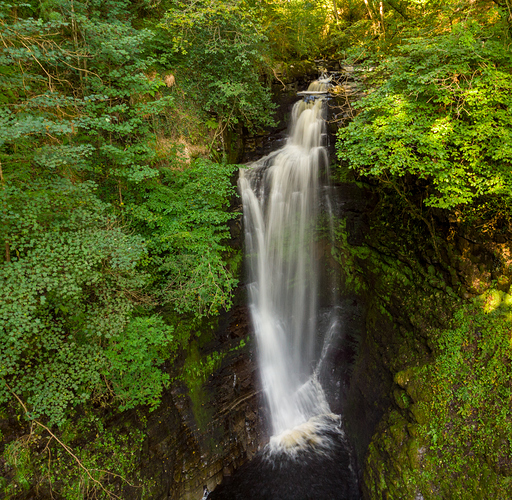 Land owner permission not required.
Sgwd Einion Gam / Fall of the Crooked Anvil
Park at Pontneddfechen and walk down the obvious footpath that starts at the side of the Angel Inn.
Follow this path until you reach a foot bridge, cross and trun immediate left. Follow until you reach Sgwd Gwladys - depending on walking speed and number of folks, weather, etc approx
a 30m amble. Spend as long as you like at Lady Falls but once ready, double back a little way and go up above these falls and then just follow the stream. Disatnce wise it is about another ¼ to ½mile but will likely take you a good 30 to 45m full on coasteering. My advice - stash your walking boots and socks somewhere and bring some water shoes and just go up the stream bed.
There are some very sketchy paths and in fact this waterfall is not even listed on my OS Map and I can only conclude they don't wnat folks to visit as it is quite dangerous to reach.
Eventually you will reach a stunning waterfall and if, like me, you will have the entire place to yourself for however long your visit. I was there for 2hrs and saw not another soul until I got back to Sgwd Gwladys.
Again, be aware of weather and if a lot of heavy rainfall then the river will be in full spate and harder to cross which you will need to do several times even if you stick to the footpaths.
The originator declared that this location was not in a flight restriction zone at the time of being flown. It remains the responsibility of any pilot to check for any changes before flying the same location.