Hey Grey Arrows Members.
Since owning drones one of the places I've wanted to visit is Chernobyl. Expierence the amazing place where the biggest nuclear disaster happened. The disaster struck on my 4th Birthday actually, 26th April 1986, some 35 years ago wiping out a huge 1000 Sq miles known as the exclusion zone and this where I'm planning on going and hopefully taking some of you guys with me.
I've been doing a bit of research over the last couple of weeks with regards to this trip and I've got some rough details for you to ponder over. More accurate pricing once I know whos interested.
The details below are rough guide but, have been told they wont change much. ignore the dates, this price is based on 2022 travel although I'm looking to book for june 2023 this will give you some time to sweeten up your better half and get some pennies together.
Prices will include all you see on the table below plus
Exclusion Zone permits
Drone Permits
Drone Serial numbers will have to be provided when booking to allow you to fly in the exclusion zone.
The guide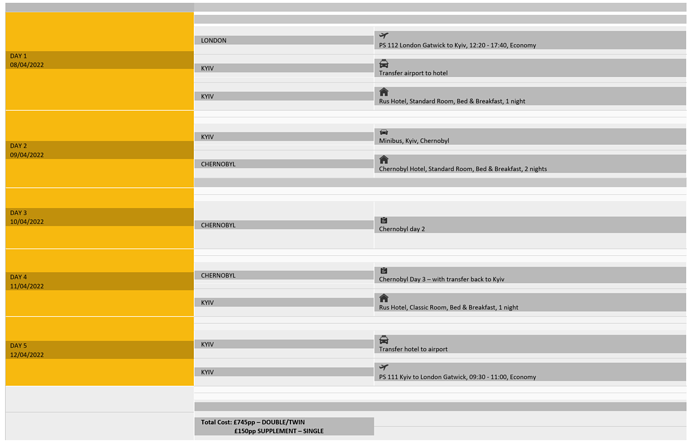 Firstly lets see whos interested.
Chernobyl Trip 2023
I would love to go
Unfortunately I can't make it
Poll is open till the 19th November.
I will do my best to answer any questions regarding this trip but you may have to be patient whilst I contact my Agent.